Carpet And Flooring Trends For 2015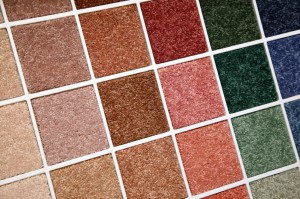 With the new year in full swing and everyone looking ahead, it's the perfect time to give your home a face-lift. By sprucing up your interior decoration you can get a fresh new start in 2015; this will no doubt lift your spirits and will keep your home looking vibrant – something you might want to consider if you hope to sell your property in the near future.
In this article we'll explore the latest trends for carpets and flooring, helping you stay en vogue with your interior design.
Natural Colours
We've previously seen how neutral colours can give a calming atmosphere to a home, keeping a fairly blank canvas throughout the house on which to build. But the tide is starting to change, with more natural colours coming into fashion. Basing your pallet on colours from nature gives a wholesome feel to any room. With more colour to brighten up your home, things will start to feel more vibrant than ever. Not all of these natural colours need to be bold however, pastel and neutral based blues, reds and greens can all be calming, whilst injecting that little bit of fun into your carpets.
Dual tones for carpets are also set to be big in 2015, so whether you opt for a multi-tonal carpet, or something with heathering and flecks of other colours, you're sure to add zest and life into your home. The two shades should match, but don't just stick to creams!
Patterns Are Back
It's been a long time coming, but patterned flooring is making something of a comeback. If you're brave enough to try it you can really create a stunning look. Forget about the old patterns you used to hate seeing in the 70s and 80s though and think more about subtle patterns, nothing which draws your eyes downwards straight away. Combine the colours with the tone of the room and keep things minimalist in terms of decoration, this will help your flooring to survive, without being overpowered.
Vintage Nostalgia
A lot of people are sick of their neutral, bland and boring carpets and are fighting back against this in many ways. The best way to combat this feeling is to indulge in a little bit of nostalgia, think back to when carpets and flooring were more exciting and vivacious. You can add some character to your home with shag carpeting or through vintage colours which have a slightly worn look to them. Think about rustic reds and faded golds.
Comfort Is King
Although we might think that we pick our flooring to be comfortable, over the years we have sacrificed that comfort for functionality and look. 2015 is set to shake this up though, putting comfort first for your home. Natural, soft fibres are a joy to walk on and are worth the extra expense if you can afford it.
Here at Pyramid Carpets we've got a whole host of carpeting and flooring options for you. If you feel like you need a change, or if you're carpets have become outdated and tired, get in touch with our professional team today and we'll be happy to help.