Commercial Flooring Solutions In The Hospitality Industry
In the hospitality industry the practicality and the aesthetic aspect of your flooring is key. The floor forms part of a customer's first impression when they walk into your building, regardless of whether you operate a hotel, restaurant or cinema. The last thing you want is for people to turn around and leave as soon as they catch sight of your floors. Below we discuss the types of commercial flooring available to your business.

Cleanliness
At the core of your values you will want to present a clean and tidy place for visitors and customers, in order for this to happen your flooring needs to be easy to clean. The best kind of flooring in this instance would be rubber flooring. When food or any other messy substance hits your surface you immediately need to have it cleaned up, and staff will find it much easier to clean and maintain this style of flooring as it wipes clean in an instant, with no stain or residue left behind. Operating in any kind of food industry will make this hygiene factor ten times more vital as customers will balk at the first sign of poor cleanliness.
The slip resistant vinyl sheet flooring is also a perfect material for areas in which moisture is likely to be present, the bar area is a prime example of where the safety and cleanliness is most important both for your staff and your visitors.
Style and Design
For many industries the impression you make in terms of style and design is of utmost importance. Hotels and leisure industry premises will want to attract customers and keep them for repeat business and with luxurious carpets you can achieve both a practical and elegant interior. Considerations need to be made for the existing décor and the suitability for different areas of the building.
For many people there is nothing better than the soft feel of a plush carpet beneath their feet and this could make all the difference in certain areas of the hospitality industry. For others, the laminate flooring route provides both the style and the practical element needed.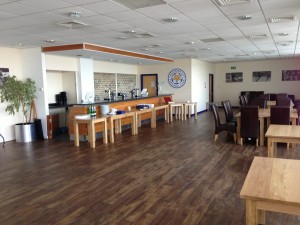 Toughness
Some industries see more footfall than others and that traffic over favourite areas – such as entrances and waiting areas – will cause wearing and discolouration over time if you don't have a sturdy and toughened flooring solution. Hard wearing, wooden materials such as engineered wood flooring give you the opportunity to protect your floors and present a sophisticated atmosphere. This kind of flooring will last much longer than a carpet or laminate floor and can be an excellent jumping off point for your interior design.
At Pyramid Carpets we can provide a fantastic range of commercial flooring solutions regardless of which industry you operate in with linoleum, rubber flooring and wooden flooring all available. Contact us today and we will help you find the perfect floor for you and your business.