How Often Should I Clean My Carpets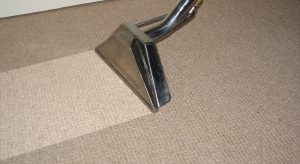 Keeping on top of your household cleaning can often be a real chore – there is only so much spare time we have to carry out all the essential tasks. There are plenty of tasks which you can't ignore or put off, and one of these is taking care of your carpets. Carpets can cover the entirety of our homes and it's a good idea to create a schedule for looking after them – this will help you to stay organised, make the most of your time and keep your home clean.
Take a look at our tips for how often you should clean your carpets to find out the best routine for your home.
Vacuuming
The first major thing you can do to help keep your home clean is vacuum your carpet. This should be done on a regular basis, dependent on how many people you have living under one roof. If you are living alone you'll only need to vacuum every few weeks, while a family of five might need to vacuum at least once a week to stay on top of dust, crumbs, hairs and other mess which accumulates in the fibres of your carpet.
Pets & Small Children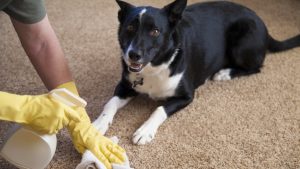 The maintenance and cleaning of your carpet should be a top priority if you have pets or small children – or both! Most pets shed hair regularly and this can be both ugly and unhygienic if it's left to fester. They might also bring in debris and muck from outside the house if they are roaming or going for walks.
Children have bags of energy and this means your carpets will take a hammering from the footfall alone. Taking care of your carpet in this respect means it will last longer, while vacuuming up any mess your little ones make will keep things clean for the whole family.
It goes without saying that with pets and children comes the increase in the regularity of carpet cleaning, not just because of them, but also for their benefit if they have allergies.
Spot Cleaning
Taking care of your carpet includes an element of reactionary cleaning. For instance, when you spill something onto your carpet you need to react quickly and carefully to ensure it does not become a permanent stain. Some stains or marks might even appear randomly if you have children, but the sooner you tackle the issues, the less impact they'll have on your carpet.
Professional Carpet Cleaning
While vacuuming is an important, regular facet of keeping your carpet clean, there is nothing more powerful in terms of revitalising your carpet than a professional clean. A deep clean from an approved carpet cleaning company will bring colour and volume back to your carpet.
It's recommended you have a professional clean at least once every six to nine months, with greater frequency advised if you have pets, small children or a lot of foot traffic in your home or premises.
At Pyramid Carpets we provide specialist carpet care services to help you keep your carpets looking, feeling and smelling their best. We're registered specialists with The Carpet Foundation for your peace of mind, so simply contact us today for more information on professional carpet cleaning or for advice on looking after your carpets.