Kitchen Flooring Ideas: Top 5 Suitable For Your Kitchen
Your kitchen is one of the most important rooms in the home, it sees traffic from every member of the family and is key to family life. You'll no doubt cook and entertain in this area but it can also be conjoined with a dining room or utility room, meaning more footfall.
With this in mind you need to choose a flooring type which can live up to the high expectations, something robust but comfortable; easy to clean but stylish. Take a look below for our top 5 recommendations for your kitchen floor.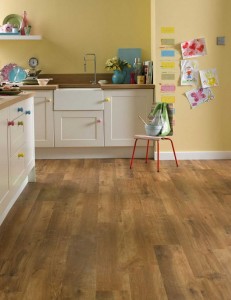 Vinyl
Vinyl flooring has to be one of the most popular choices for the kitchen, it's comfortable underfoot and is designed to last. Any spills or kitchen mishaps will be easy to wipe and the entire surface can be easily mopped. It's recommended that the style of kitchen flooring you choose should avoid intricate patterns as it may wear and look odd once it becomes patchy. There are a range of styles to choose from so you can match your floor to your existing decor easily.
Hardwood
When you want a truly durable and luxurious kitchen flooring solution, look no further than hardwood flooring. It might be a touch more expensive than most of the other flooring types on this list, but you can't beat it for quality. Wipe up any spillages quickly from the polyurethane finish and avoid having to replace any of the boards. This is a flooring solution designed to last, simply sand down and re-treat throughout the years.
Lino
Not too dissimilar to the vinyl flooring already mentioned, Lino flooring is a classic choice for the kitchen. You can easily install linoleum kitchen flooring yourself and it comes in a range of patterns and styles to match your home. While it holds sway with many homeowners because of the lower costs involved, it can be viewed as more short term flooring solution as lino might not hold up quite as well as some of the other robust materials on this list.
Laminate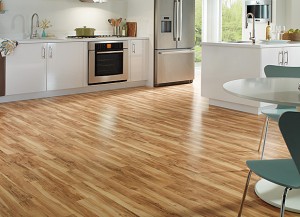 Laminate kitchen flooring is popular throughout the home but there is no reason why it can't be used to freshen up your kitchen. It's cheaper than a real hardwood but can still stand up to the heavy usage your kitchen will no doubt see. This is something which anyone with basic DIY skills could lay themselves with very little hassle.
Ceramic Tiles
Many people looking for an alternative flooring material turn to ceramic stone for its hard wearing and durable properties. Mopping this material is easy and you can get a variety of tile colours and patterns to create a floor which matches your kitchen. The only downfall with tiles is that they can crack easily if something is dropped on them, meaning you'll have to pull up tiles and replace them to keep the sleek look.
If you'd like to find the best flooring option for your kitchen then contact our professional and friendly staff at Pyramid Carpets. We'll be happy to help find the right solution for your budget and your requirements.