The Benefits Of Amtico Flooring
Replacing the flooring in your home or business premises is a great way of updating the look of the property without having to pay for an entire renovation. That said, searching for new flooring can be a rather daunting task, with a plethora of styles and customisation options available for you to choose from.
As one of the UK's leading flooring manufacturers, Amtico have over 50 years' industry experience providing luxury vinyl flooring to both residential and commercial applications. Here, we will look into what Amtico flooring is and how it can transform the look of your property, so you can make an informed decision prior to purchasing anything.
Organic Look
When decorating a property, incorporating natural elements, such as wood and stone, has been a popular interior design trend for many years as it creates a warm and inviting feel. The stone and wood effect flooring from Amtico allows you to bring the beauty of the outdoors into your property to create a chic, stylish look, without compromising on functionality.
Durable Design
Made from a resin, Amtico flooring is compressed under high pressure during the manufacturing process which makes it very durable and robust for a long-lasting finish.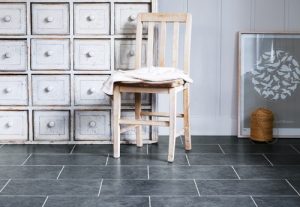 When it comes to the look of luxury vinyl tiles from Amtico, a customised printed film is applied to the flooring to replicate the look of natural wood planks and stone tiles, creating a natural, organic style. To protect this design from becoming scratched or marked, a coat of urethane is applied to the printed film, giving it a polished finish which requires little maintenance.
Versatility
When choosing a new type of flooring for your property, it's important to consider its compatibility with your existing rooms. Amtico flooring is popular for its versatile design, as it can be fitted on a wide variety of subfloors, such as timber, stone and concrete. Not only that, Amtico flooring can also be installed over an underfloor heating system, however, it's advised that the heating system is turned off for 48 hours before and after the installation, and the temperature must not exceed 27°C.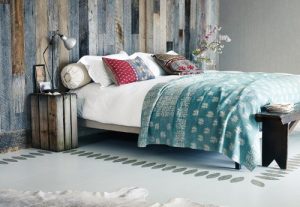 Pyramid Carpets
If you have decided that Amtico flooring is the best choice for your property, you must call upon the expertise of a trained floor layer who will make sure it is properly fitted for long-lasting style and functionality. As an Amtico One Exclusive Retail Partner, here at Pyramid Carpets we stock and install luxury vinyl flooring from premier manufacturer Amtico to homes and commercial properties throughout the Yorkshire region.
With a wide range of customisation options available – such as wood, stone and abstract patterns – along with our expert installations, it's never been easier to find the right type of flooring to suit your needs, tastes and budget.
To find out more about any of our services or to receive a free, no obligation quote, don't hesitate to get in touch with our expert team today. Alternatively, you can visit our showroom in Sheffield to view our comprehensive flooring options first-hand.