The Complete Guide To Flooring For Your Home
Whenever you consider new flooring options for your home it is always best to weigh up your options. While price can be a deciding factor for a lot of people there are other issues to think about, such as the traffic the surface will see, and whether your new floor will match your existing décor.
There are so many different flooring materials to choose from however, that it can be hard to know which one will work best for you and your home. Below you will find a handy guide to the main domestic flooring options available, what they're best suited for and what they're not suited for.
Laminate Flooring
Laminate flooring has grown in popularity in the last few decades and is formed from fibreboard with a photorealistic wood print laid on top to make it fairly indistinguishable from real timber in its appearance. This is a durable choice which fits in with most existing decors so can be used in almost any room including playrooms and the kitchen if it has a waterproof core.
Pros
Cheap Solution
Simple To Install
A Number Of Styles And Shades
Cons
Not Natural Wood
Poorly Laid It Is Unattractive
Swells In Heavy Moisture
Hardwood Flooring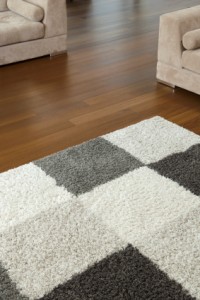 With a hardwood floor you know you are getting both natural beauty of the real wood you choose (maple, oak etc.) and the durability which comes with it. This is a long lasting solution and can be recoated for different finishes over time.
Pros
Multiple Refinishes
Stands Up To Wear
Great Range Of Natural Materials
Cons
Difficult To Install If Boards Change Shape
Swells Or Contracts In Extreme Temperatures
Could Be From Non-Sustainable Source
Linoleum Flooring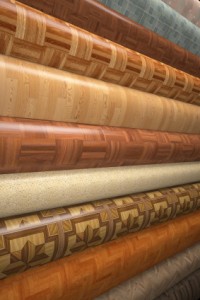 Better known as "lino" in some areas, this is a sheet flooring which is made from oils and natural substances to make it a renewable and natural solution. It's available in a wide range of colours from the neutral and unassuming to bright, jazzy and patterned designs.
Pros
Easy Glue-Down Installation
Special Coating To Prevent Wear
Easy To Clean
Cons
Needs To Be Sealed To Prevent Water Damage
Ages Over Time If Not Looked After
Scratches Or Dents Are Hard To Hide
Vinyl Flooring
A close relative of the linoleum already discussed, it is made from man-made products with a chemical production. It is often made to be softer underfoot by adding a cushioned layer on the underside and comes in a range of styles and designs.
Pros
Easy To Install
Resilient To Moisture
One Of The Cheapest Flooring Materials
Cons
Once Top Layer Degrades It Fades Fast
Not As Environmentally Friendly
Doesn't Last As Long As Linoleum
Engineered Flooring
This particular wood floor is created from layers of cheaper wood placed at right angles under a quality veneer. The overall effect is that you get both the durability of the layers with the quality finish of the real wood veneer.
Pros
Hard Wearing
Resistant To Temperature Fluctuations
Cheaper Than Real Wood Flooring
Cons
Tougher To Install
More Expensive Than Laminate
Scratches Take Their Toll (But Can Be Sanded Back)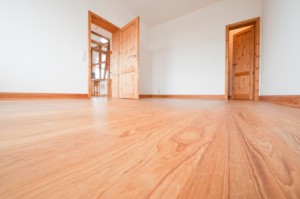 Clearly there are a range of fantastic flooring solutions available for your home, but if you need more advice, or would like to see a full range, then contact Pyramid Carpets today. Our team of professionals will be able to advise which flooring works best in which rooms and find a solution to suit your budget.