Top Tips for Cleaning Luxury Vinyl Flooring
Modern living requires things that are quick and easy, so when it comes to choosing new flooring for your home, luxury vinyl floor is the one option that really stands out. It provides a stylish, modern finish but does not compromise on practicality either.
Whether you're moving into a new home or you fancy freshening up your current home with a new look, luxury vinyl flooring can drastically change the appearance of a room and is low maintenance and highly practical too.
So let's take a look at the some top tips for keeping your new luxury vinyl flooring spick and span!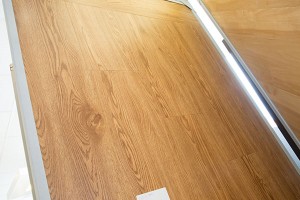 See To Spills ASAP
Leaving spills to lie on the surface of your laminate floor is a bad habit to get into as the spillage can seep through the joints and work it's way under the flooring. So if you spot a spillage, it's always best to wipe it up as soon as possible.
Entrance Mats
Moisture and dirt often enters the home via your footwear. The best way to avoid this being trodden into your home is to buy a doormat and encourage people to use it. This way you can leave all the dirt at your front door and your floor can remain intact!
Cleaning Products
It is best to avoid any bleach-based solutions which most cleaning products tend to have in them. The bleach can cause discoloration and leave a slippery film on the surface of the floor. Mixing your own vinegar solution of apple cider vinegar and hot water will lightly clean the vinyl and keep it looking fresh and clean.
Cleaning Method
Prepare – use a soft sweeping brush to collect and remove any loose dirt or dust from the surface. We recommend you don't use a vacuum for this but if this is your prefered choice, turn off the beater bar and use the hose instead, as you would with upholstery, to protect the flooring from scratches and scuffs.
Wash – Use either a vinegar solution or a mild cleanser to mop the surface. Be careful not to drench the floor with too much water as this can ruin the glue bond between the vinyl and the floor, so wring out the mop thoroughly.
Dry – Simply leave it to air dry – so no walking across it!
Casters And Protector Pads
Any heavy pieces of furniture or fixtures on the floor are best kept on casters or protector pads. This will prevent any long-term indentation from ruining the effect of your vinyl floor.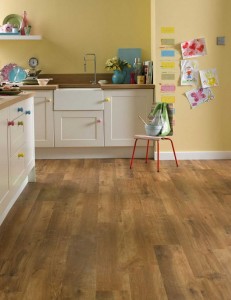 If you follow these easy tips and pointers, you can keep spills, stains everyday wear and tear at bay, allowing you to revel in the beauty of your new luxury vinyl flooring!
With years of experience in providing high quality flooring solutions to our customers, Pyramid Carpets are the experts you can rely on. If you'd like to view samples of our luxury vinyl flooring, please do not hesitate to get in touch with our friendly team today.