Top Tips: How To Remove Stains From Your Carpet!
Your carpets, no matter how much you paid for them, are something of a permanent fixture and can add that touch of elegance and luxury to any room. But what happens when you get a stain on your carpet? It happens to everyone at some point as we eat and drink throughout the day and throughout the home – plus, it's even more tricky to avoid stains if you have children!
There are a number of different kinds of stain, as well as numerous carpet materials; all of which deserve different kinds of carpet care. Read on to find out what you should do to remove liquid and solid stains from your carpets.
Liquid Stains
Liquids are the most common stains on carpets as they are easier to spill. Wine, coffee, fizzy drinks and any liquid food can be harmful for your carpet if a spillage goes unattended. The main thing to remember is not to panic, if you rush and press down on the stain with a cloth with your full force you're only making it worse.
To begin with you need to blot the stain carefully to pick up as much liquid as possible, once you think you have taken up all the excess liquid you can through gentle blotting, you can add a detergent or cleaning solution. Work this solution from the outside of the stain to avoid spreading the stain further out.
Once on the carpet, you can let the solution sit on the stain for around 10 minutes until moving on. It's important not to over-wet the stained area, however, as this can cause damage deeper down.
The next step should be a simple blotting once more before you move on to rinse the cleaning solution out of the area. If, once dried, the stain still remains, then repeat the process.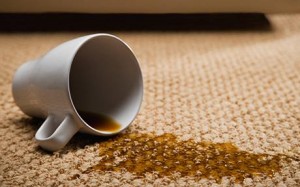 Solid Stains
Although carpets are most at risk from liquids, there is still a chance you could have a solid stain rubbed or trampled into your carpet. Things such as chocolate, crayon, mud and numerous other solids can easily stain a light carpet.
The first thing to do is to scrape away any excess solid material which isn't embedded in the fibre. Again, any panic pressure applied on the stain will only make things worse.
Once the excess is removed you can apply detergent or a cleaning solution. Leave this to settle and don't press the solution into the carpet too hard.
Blot the area dry gently to take up excess cleaning liquids, then rinse lightly and leave to dry.
In some circumstances you may wish to use an ammonia solution between blotting.
Different solids will be easier to remove than others but the process can be repeated if needed.
Here at Pyramid Carpets we know just what a difference having bright, clean carpets can make in any home or business. That's why we provide a variety of carpets, so whether you need to replace old carpets or just fancy a change, contact us today to discuss your carpeting requirements.