What Flooring Is Suitable For Underfloor Heating?
Many people see underfloor heating as something as a luxury but it is becoming more and more popular in homes as people see the benefits. It's long been a great option for bathrooms but it can also be useful in any room where the floor is cold or the room is susceptible to the cold. Kitchens, living rooms and even bedrooms can benefit from the added heat which flows through the floor to keep a room nice and toasty.
As we edge towards the autumn, and an inevitable drop in temperature, we thought now might be a good time to discuss the different types of flooring materials which work with underfloor heating.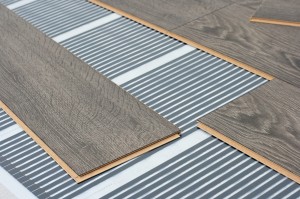 Carpets
You might think that carpet isn't compatible with underfloor heating, and while it isn't the best suited, it can still be utilised if you get the right kind of quality carpet. You'll need to look closely at the thermal resistance, with anything below 2.5 tog being the best – this is important to check, although most carpets should be less than 1 tog anyway.
Stone
Generally considered to be the best flooring material for compatibility with underfloor heating, there are many different kinds of hard stone which you can use. Slate, ceramic tiles and even marble can all be cold, making standing in any room with this kind of surface unbearable. By installing underfloor heating you get the benefit of a solid floor and the look you want but with all the comfort of comprehensive heating.
Wood
If you're considering having a wooden floor with underfloor heating then you need to take care that you use the right kind of wood and that you get the thickness and width of the boards right. Engineered timber performs very well and hardwood also allows for good thermal conductivity, but the boards should be narrow for the optimal performance.
Vinyl, Laminate & Rubber
Finally, the laminates and vinyl flooring materials common in most homes can also be used to help heat up a room. These flooring types are usually deployed in the kitchen or bathroom, making underfloor heating advantageous for the colder months. Due to the thin material, all linoleum and rubber flooring options conduct heat well but will heat up and cool down a lot quicker. You should check with the manufacturer as to how much heat they are able to withstand, although most materials can handle up to 27°C of heat – this should be plenty to heat your room and keep your feet toasty.
No matter which material you select for your home to go with underfloor heating, you should always consult the experts to avoid disappointment. Manufacturers and suppliers will have a much better idea of which flooring style is best suited to you and your home.
Pyramid Carpets
Here at Pyramid Carpets we supply a range of carpets, wooden and vinyl floors. Simply contact us today to find out more information about which materials will work best with underfloor heating and their thermal properties.