Wood Flooring: Hardwood vs Laminate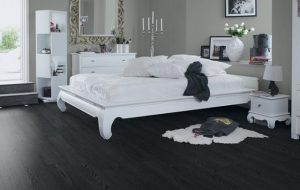 There are many options available to you when it comes to wood flooring, you can have it in any room of your house if you wish, but you'll have to decide which materials suit your needs best. Just deciding on a whim is never a good idea, so we've taken two popular wood flooring styles to compare their attributes.
Laminate flooring has been popular for homes over the last 25 years, while hardwood flooring is a classic style carried through from long before, but which is the best for your home? Let's compare.
Affordability
While price isn't everything, it is certainly in the back of most people's minds. Laminate flooring comes in at a lower price than hardwood flooring. This is mostly due to the fact that hardwood is real, treated wood, whereas laminate is mostly synthetic and is made to look like wood.
If you opt for hardwood you'll be paying the premium for the quality of the materials, but don't let that put you off laminate – it still has plenty to offer in other categories, hence its popularity.
Style
Hardwood flooring clearly wins the style contest if you're looking for something with natural grains, tones and colouring. Meanwhile, laminate is available in a number of different finishes without a huge premium to be paid for a classier look.
You have to think about which room these flooring types suit better, because while a laminate floor will look nice in your living room, you might not appreciate it as much in your bedroom.
Installation
One of the biggest advantages that laminate has over hardwood flooring is the ease of installation. Most laminate flooring comes as a click and lock package, allowing you to easily lay large swathes of your floor yourself. Hardwood, on the other hand, needs to be properly secured. While it comes as a uniform shape, hardwood flooring needs more professional attention to be installed properly, sometimes only suiting certain sub-floor types.
Maintenance
When it comes to maintenance, laminate wins out once again. Due to the thick, clear layer on the top of the pieces, you get a complete finish which is easy to wipe down. Spillages and mud can all be wiped away or mopped up with little to no damage (it's important to remove liquids to avoid it seeping between the slats).
Hardwood flooring needs more care and is slightly less resilient because of the natural materials involved. It's even more important to choose carefully which room it's fitted in because of its vulnerability in direct sunlight and in extreme weather.
It's clear to see that laminate flooring is better suited to family homes and for those on a strict budget, but if you're looking for style and substance, you're clearly going to find yourself more comfortable with hardwood flooring.
At Pyramid Carpets we provide both of these flooring options in a stunning variety of styles. If you'd like more information on hardwood flooring or laminate flooring, simply contact us today and we'll be happy to help.