Your Guide To Buying Carpet Underlay
The comfort and feel of your carpet underfoot is important whatever style you choose, it helps to complete your home and make it welcoming for visitors. For businesses it's important to have a carpet which will last and stand up to heavy traffic, but whether you're buying carpet for a domestic or commercial property you need to think about what kind of underlay you need.
That's why we've created a short guide to buying carpet underlay, including advice on which kind of underlay is best for you. Many people think that there is one standard kind of underlay but there are actually several options to choose from, all with their own benefits.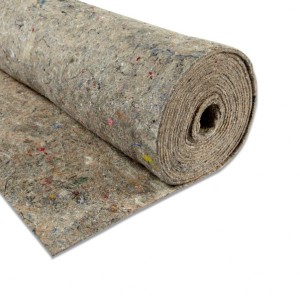 What Are The Benefits Of Underlay?
Clearly the main benefit of underlay is the comfort you get underfoot, providing a protective layer for your feet between the hard surface of the ground beneath and the carpet on top. The carpet itself also benefits from this layer of protection, without which it would wear far quicker.
If you need better thermal protection or you want to insulate from sound below then underlay has added benefits in these areas, as an absorbent layer it can keep the cold out from the ground and is acoustically beneficial. While you might not be pounding around the room, any heavy movement on your carpet can also be absorbed with the shock-absorption properties of the spongy material.
What Are The Different Types Of Underlay?
Waffle – the name relates to the look of this popular type of underlay, its bumpy features help to provide air pockets which offers greater comfort and shock absorption.
Flats – flat underlay is far more compact and therefore more stable and hard wearing, there are usually still rivets and air pockets but far less than the waffle style.
Crumb – made from a rubber and felt crumb this style is far less common than the usual rubber waffle but is hardier.
Felt – felt on its own is good for sound insulation and it the most environmentally friendly style of underlay.
Which Type Of Underlay Is Best For My Floor?
Depending on the style of room and carpet you have, as well as the purpose of each room, there are particular types of underlay which will suit best. For homes the waffle and flats are the best option with flats better suited for wooden and laminate floors. If you have a high traffic area such as in a shop or in the entrance area of your home then the crumb underlay gives you the longevity you need. Felt is less resilient and will compact more easily but is a greener option for those rooms which might see less use than others such as spare rooms and study rooms.
Clearly there are a variety of underlay options available for any kind of room, but if you're still a little unclear as to which will best suit you then don't hesitate to contact the expert team at Pyramid Carpets. Our professional and friendly team will happily make the best recommendation on underlay when you purchase carpets and flooring from us to ensure the best results.